Earth Outdoor Furnaces - Make the choice that lasts
When you compare their worth...you'll buy an Earth!
Join the ranks of completely satisfied users of Earth Outdoor Furnaces. The Earth 1/2″ Thick Firebox and sturdy construction will provide safe, reliable heat to your home for years and years to come.
We offer a safe, efficient outdoor furnace that can fulfill all of your heating needs. Earth Outdoor manufactures and distributes outdoor furnaces which are hydronic heaters and can heat multiple types of buildings as well as hot tubs and pools, greenhouses, domestic water and much more.
Our products offer you...
Savings in Utility Bills

Strength in Construction

Simplicity of Design

Reliable Service for Years

Safety for your Family
Rest assured, your family is safe
No pressurized water jacket (non-sealed system) and the fire away from the house means safety and security for your family.
Open System – 1 Door models 305, 365, 405, 505
Earth also manufactures a forced-air furnace, the Bear Cub 305 FA.
The water tank is 10 gauge (1/8″ thick.) Nothing is made light or cheap in an Earth Furnace.
The Earth Cylinder Firebox is 1/2″ Thick (not "almost" as some advertise). Most other companies use 1/4″ thick. Earth is twice as thick!
The Earth Furnace has a Heavy Duty door hinge to prevent warping.
The weight of a furnace is the #1 issue you should compare. What do comparable BTU's weigh?
Perfect for smaller homes, mobiles, modulars, shops, etc.
120 Gallon Tank, Approx. 140,000 BTU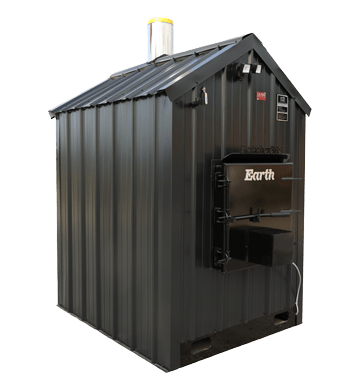 Great furnace for the average size home.
235 Gallon Tank, Approx. 300,000 BTU
Choose this model for an above average sized home.
300 Gallon Tank, Approx. 355,000 BTU
The model for larger homes and multiple applications.
315 Gallon Tank, Approx. 400,000 BTU
We also offer a Forced Air model, the Bear Cub 305-FA. Like the Bear Cub 305, this model would apply to smaller homes, shops, mobiles and trailers and uses forced air to warm spaces.
"Just wanted to pass along that we are thrilled with the performance of our Rancher 365 series furnace."
"Our electric bill went from $457 in January to $112 in February with our Earth Outdoor Furnace!"
"Wow! It's one of the best decisions we've made!"
"Not very often that you buy something and it exceeds your expectations."
"It is currently 76 degrees in our 'leaky/old' house and it is 16 degrees outside. What a blessing!"
"We purchased 2 furnaces last fall…best decision we've ever made!"
"We heat our Home & Office with an Earth Furnace. Great Product!"
"We are loving our Earth Outdoor Furnace. It is a wonderful warm heat. You did a great job in building the furnace."
"We are really, really enjoying our Earth Outdoor Furnace!"
Safe, Affordable and Efficient
Staying warm doesn't have to cost an arm and a leg or come with sticker shock from a utility bill.